Ghirardelli Factory Tour- Chocolate lovers rejoice with the San Francisco Chocolate Ghirardelli Factory Tour and other chocolate tours: For chocolate lovers, San Francisco offers a number of customized tours. While there is no longer a working factory or factory tour in the original Ghirardelli factory buildings, you can still visit the original manufactory, which now houses a beautiful chocolate and ice cream shop. Continue reading to learn more about it and a few other options for chocolate tours.
Ghirardelli Square
The historic Ghirardelli Square can be found next to the Aquatic Park at one end of Fisherman's Wharf. The original chocolate factory still stands on the square, but it has been replaced by shops and restaurants that are not all related to Ghirardelli. Prepare accordingly as the square itself is quite crowded.
Top 10
Best
Chocolate Factory Tours In San Francisco Ca Last- Ghirardelli Factory Tour
Ghirardelli Shop – Ghirardelli Factory Tour
If you want to get in, you'll have to wait in line for a while during busy times. This shop is very well-liked and beautiful. In the United States, Ghirardelli Chocolate has a long history: It was established for the first time in 1852, making it the nation's longest-running chocolate manufacturer. In addition to the main chocolate shop, there are two additional places in the Square where you can get your Ghirardelli fix: Ghirardelli Marketplace in the West Plaza and Ghirardelli-On-the-Go on Beach Street
Ghirardelli Ice Cream
The Ghirardelli Ice Cream Shop is a must-see when visiting Ghirardelli Square. Ice cream sundaes, a variety of flavors of ice cream, and other ice cream treats are available here. Here, you can also try some of the well-known Ghirardelli chocolate squares. Remember that there are two ice cream shops in the area: one right next to the chocolate shop, which is usually very crowded, and another one right above the main chocolate shop, which serves the same products but is usually much less crowded.
Additional Chocolate Options in San Francisco
If a trip to Ghirardelli Square and a chocolate shopping spree aren't enough for you, there are a few other chocolate-loving options in the city. Chocolate-tasting tours are offered by Gourmet Walks and Edible Excursions, which take visitors on a three- to a four-hour tour of the city. Dandelion Chocolate gives tours of its factory, and the San Francisco Gourmet Chocolate Tour gives you a three-hour tasting tour of various San Francisco chocolatiers. Along the way, you'll taste a wide range of chocolate and chocolate-infused food and drinks and learn about the history of chocolate, its health benefits, and global trends in chocolate.
Read more: https://sfinsider.sfgate.com/the-san-francisco-chocolate-ghirardelli-factory-tour-and-other-chocolate-tours/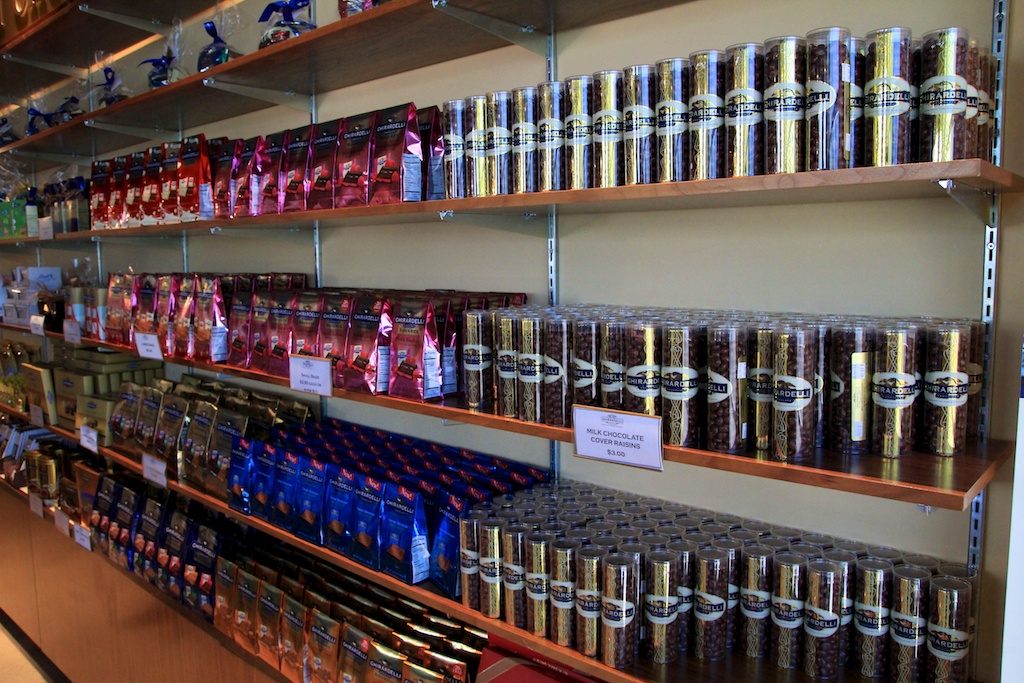 Ghirardelli Chocolate Outlet On The 5 Freeway California Through- Ghirardelli Factory Tour
Reviews on chocolate factory tours in San Francisco ca the San Francisco chocolate factory the original Ghirardelli ice cream chocolate shop dandelion chocolate tcho chocolate dandelion chocolate 16th st factory bloom chocolate salon. The factory puts out an aroma that is as alluring as it is delicious.
Sweet
Spots Five Luscious Chocolate Stops In San Francisco
– Ghirardelli Factory Tour
All hours in local time.
Ghirardelli factory tour. Custom please wait text goes here. See 1506 unbiased reviews of the original ghirardelli chocolate manufactory rated 4 of 5 on tripadvisor and ranked 155 of 5174 restaurants in san francisco. The original ghirardelli chocolate manufactory san francisco.
Ghirardelli has been inspired by our san francisco home since 1852. Thank you for signing up for ghirardelli email list. Enter address or zip code.
There are a number of special tours in san francisco for those who love chocolate. Signup for ghirardelli email. Just one whiff of it will make you want to buy at the sweet shop and caffe so hold on to your appetite.
Ghirardelli chocolate is sold all across the nation and ghirardelli square has the chocolate factory that is better than willy wonkas. Theres really no reason to be disappointed that ghirardelli chocolate factory tours are not available in san francisco because now you can take part in a very up to date 21st century chocolate factory tour a tour of dandelion chocolates which is located in the mission district neighborhood. Always on the cutting edge of retailing in the united states ghirardelli square continues to serve as a model for restoration complexe.
While the original ghirardelli factory buildings no longer host a working factory or manufactory tour you can visit the original manufactory which now hosts a beautiful ice cream shop and chocolate store. The red brick structure is recognizable by its clock tower and large ghirardelli sign which make excellent photo backdrops for visitors who. Read on to find out.
Ghirardelli represents a range of truly exceptional chocolate experiences from classic individually wrapped squares to bars to baking chips and sauces. The original ghirardelli chocolate factory in san francisco calif no longer offers factory tours. What began as the ghirardelli chocolate factory in the 1890s is now a multilevel retail square across the street from san franciscos aquatic park.
Receive updates on promotions events recipes chocolate inspirations. Ghirardelli makes products in the us and controls the entire chocolate making process from cocoa bean to finished product which delivers the signature intense smooth. Sign up for ghirardelli email.
Submit or use my location. Ghirardelli square considered the first successful adaptive reuse project in the country has a history that spans more than a century and covers three continents. The original factory located in ghirardelli square has been repurposed as a chocolate shop and tourist destination.
Ghirardelli Chocolate Factory Visit Youtube- Ghirardelli Factory Tour
Fisherman S Wharf In San Francisco The Ultimate Guide- Ghirardelli Factory Tour
TAGS;
Ghirardelli factory tour stockton
ghirardelli factory san francisco
ghirardelli factory tour san leandro
ghirardelli square
ghirardelli factory tours lathrop
ghirardelli san francisco closing
dandelion chocolate factory tour
chocolate factory tour california
ghirardelli factory tour
ghirardelli factory tour stockton
ghirardelli factory tour lathrop
ghirardelli chocolate factory tour san leandro
is the ghirardelli factory open
can you visit the ferrero factory
where is the boxabl factory
san francisco chocolate ghirardelli factory tour
ghirardelli factory tours lathrop
ghirardelli chocolate factory tour